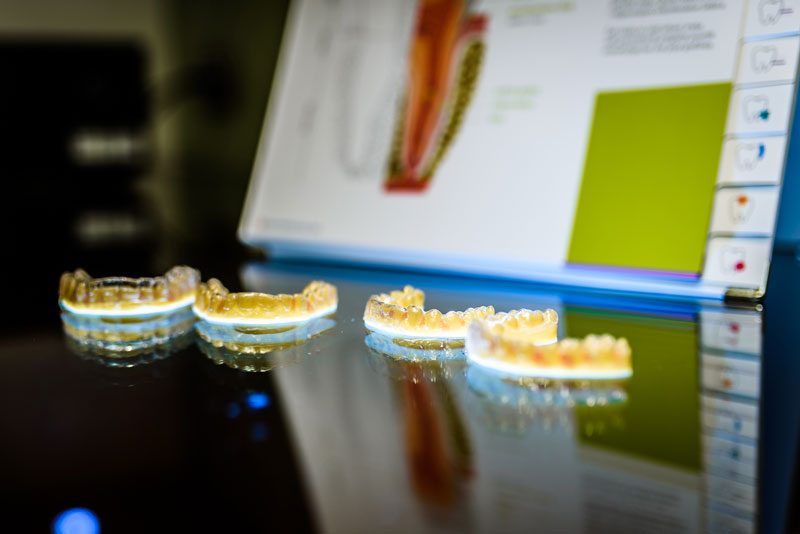 Dental correction foil (Invisalign or eCligner or invisible fixed denture).
Digital intraoral scanners TRIOS, a renowned Danish manufacturer, "3shape", will allow you to get the perfect smile and perfect teeth in the most naïve way.
Unlike classic fixed dentures, teeth fixing teeth bring your teeth to an ideal position with the help of plastic, transparent aligners.
A more comfortable and guaranteed way to straighten your teeth, with no bumps and regular arrivals on tightening and control.
With this method you come to a perfect smile and tooth for the shortest period of time.
Invisible foils are made using the latest 3D technology. Simulation of the movement of the teeth and taking the fork of the fork is done using software. It is a computer-controlled orthopedic fork. Let's keep up to date with the latest technological developments and provide you with a lighter, faster, painless yet safe way of correcting and diagnosing your teeth. Using the TRIOS scanner that displays your teeth on the computer and in real time and in real colors.
After scanning the upper and lower jaw, accurate computer analyzes individually calculate how much the patient needs the film to the ideal position of the tooth.
The entire treatment is maximally comfortable for the patient, and the results are guaranteed.
The benefits of invisible foils are numerous:
* Aesthetic priority because of its transparency
* Easy maintenance of oral hygiene
* The required number of foils is delivered at once, which benefits patients from abroad.
* Increased precision of tooth movement relative to classical methods.
M Aligner is an ortho system for correcting teeth with foils.
M Aligner technique is an orthodontic treatment whose appliances consist of aesthetically acceptable, comfortable, effective, advanced and sequential transparent foils.
The set of foils is used to correct the teeth and it is possible to get a complete therapy kit in one step, once visiting the dentist. It consists of a set of foils that change for approximately 12-14 days. By constant wearing of foils about 20 hours a day, continuous pressure on the teeth leading to the movement of the teeth is carried out. The number of films depends on the weight of the malposition, the number of teeth to be involved in the therapy, and how to move these teeth during therapy.
Demand for corrective treatments for frontal tooth malposition is on the rise, especially in adult patients who do not want to use a fixed apparatus with locks. The tendency of demand indicates that a shorter, less invasive and aesthetically acceptable orthodontic treatment is desired. M Aligner provides these patients with a very effective solution.
In short, this is a technique in conjunction with the global expansion plan.
The advantage of our practice:
All analyzes, calculations, advice are done by Dr. Sci. Milutin Obradović, one of the beginners of modern orthopedic fork, with unique experience in this area.