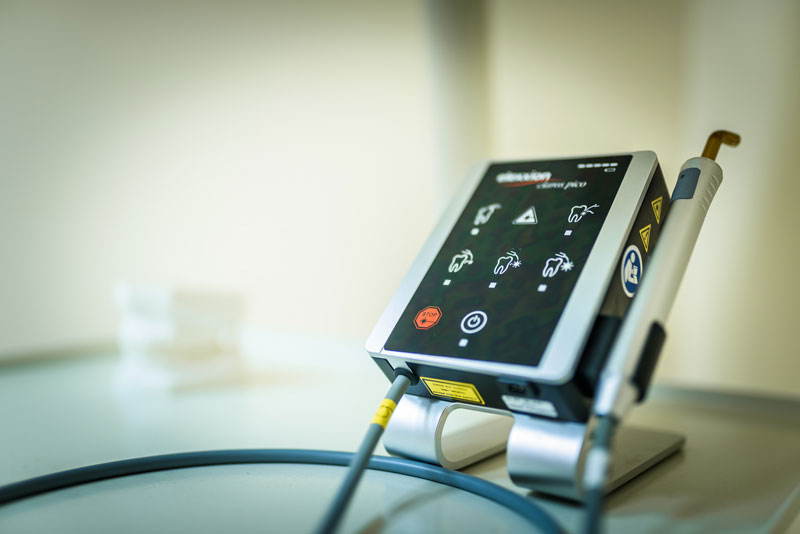 Elexxion laser devices are equipped with a series of programs that are in line with the average values ​​confirmed in numerous scientific works and through cooperation with the most prestigious universities and famous doctors and experts in the field of dentistry.
Laser treatments
Afte, analgesia, abscess, haemostasis, root sterilization of the root-endodontics, fibromas, fistulae, frenulectomy, gingivoplasty, herpes labialis, hypersensitivity dentin, periodontitis, periimplantitis, teeth whitening, opening of the gingival sulcus …
Laser teeth whitening Elexxion AG appliance is often replaced with ZOOM technology, although there is one very important difference, which is the use of lasers as a gel activator in relation to halogen (blue) light. This is a very useful method because most patients are very satisfied with the results achieved after only two treatments.
The procedure is very fast and simple. Hydrogen peroxide gel is applied to the tooth, and then each tooth is illuminated by a laser. Laser exposure does not last more than 2 minutes. Teeth whitening by laser is painless with respect to zoom technology and there is no warming up of soft and hard tissues.
Advantages of laser bleaching:
Safety – thanks to impulse technology, the rays do not heat deeper layers of tissue
No warmth or irritation. Laser air is directed to the tooth and protects the gingiva area with a special gel
Safety – the dentist at any moment controls the depth and strength of the laser beam on the tissues, without undue action on the tissue environment
The speed of the procedure and the results that are visible within 24 hours